Slowly warming up from deep freeze in central Indiana
Temperatures are finally above zero, but remember wind chills are still below zero and will stay that way through early Wednesday.  Stay prepared for the cold, but there is a thaw on the way.
There are clouds and a few snow showers in the forecast tonight, Wednesday and Thursday.  These pockets of light snow will not produce any accumulations of more than an inch. 
The bigger story will be the thaw.  Temperatures overnight will be in the single digits and climb into the double digits by sunrise Wednesday.  Expect more clouds than sun and a few snow showers on Wednesday, with highs in the 20s. 
Highs reach the upper 20s and lower 30s on Thursday, with clouds and a few pockets of light snow.  We go above freezing for highs on Friday and will stay there through the weekend.  This will lead to melting snow and with a weekend weather system that brings rain, there is a flooding threat. 
We will keep you updated on that weekend system.  Right now it is forecast to arrive on Friday as a wintry mix and change to rain on Saturday.  The available moisture is in the range of .50″-.75″.  These numbers added to melting snow will lead to that flooding threat.
We dropped today down to -15 degrees below zero and at 8 this morning, -14 below zero. It has warmed up a lot since then but still, when you factor in the cold wind, it is still very cold and the National Weather Service has issued a Wind Chill Warning until 7 pm.
The polar vortex is the main culprit for our cold weather. It is always present but a piece of it dropped south and brought us the Arctic Outbreak. Look for a high of 20 tomorrow and 40 by Saturday with a chance for rain.
Thought you might like to read this explainer from the National Weather Service in New York City. It explains the vortex nicely.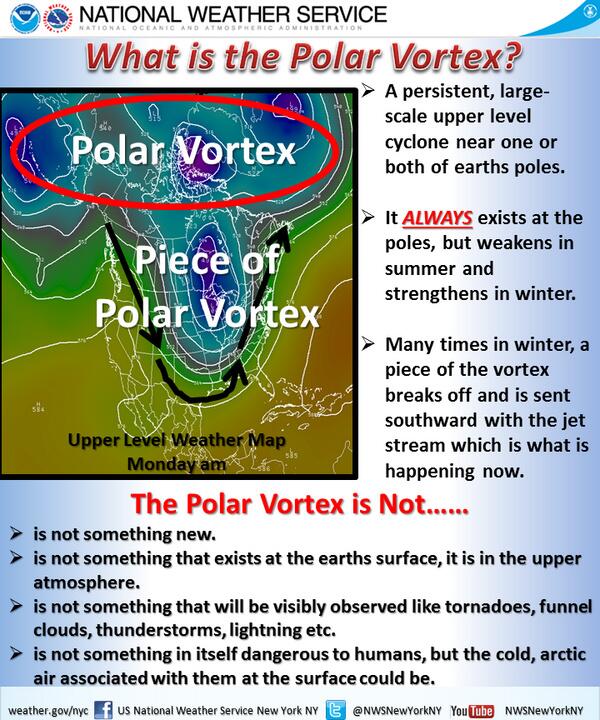 See county-by-county emergency travel status map
See all watches and warnings here.
WTHR.com weather tools
Sign up for Personal Forecast - This allows you to receive text or email alerts whenever there is a watch or warning in the counties you have specified.
Interactive radar - Zoom in and get a closer look at the shape and path of the storm.
Live 13 Doppler Radar - WTHR's main radar page.
Get the WTHR SkyTrak Weather app! (for Droid and iPhone) This includes radar links plus alerts.